Vamos a comenzar esta pequeña explicación, exponiendo el problema que podemos encontrar al instalar en una maquina dos sistema en dual-boot, con la hora de los distintos sistemas.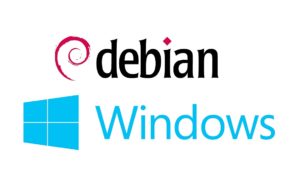 Por ejemplo podemos tener como es mi caso un Windows 10 y un sistema unix(Debian), a veces al instalar dichos sistema nos podemos encontrar con el problema de que tendremos 2 horas de diferencia entre la hora de la BIOS y Windows, y la hora del sistema operativo Debian.
Aqui viene la explicacion:
Modificación fichero /etc/adjtime en Debian
Nos dirigimos a una terminal y accedemos con usuario root y editamos el fichero /etc/adjtime y sustituimos la ultima linea UTC por LOCAL, obviando las dos primera lineas que varían según la maquina quedaría asi:
-0.178906 1462784226 0.000000
1462784226
LOCAL
Modificamos fichero /etc/default/rcS en Debian
A continuación, editaremos el fichero /etc/default/rcS para que quede asi:
#
# /etc/default/rcS
#
# Default settings for the scripts in /etc/rcS.d/
#
# For information about these variables see the rcS(5) manual page.
#
# This file belongs to the "initscripts" package.

# delete files in /tmp during boot older than x days.
# '0' means always, -1 or 'infinite' disables the feature
#TMPTIME=0

# spawn sulogin during boot, continue normal boot if not used in 30 seconds
#SULOGIN=no

# do not allow users to log in until the boot has completed
#DELAYLOGIN=no

# be more verbose during the boot process
#VERBOSE=no

# automatically repair filesystems with inconsistencies during boot
#FSCKFIX=no

# Set UTC=yes if your system clock is set to UTC (GMT), and UTC=no if not.
UTC=no 
La linea mas importante a modificar es la ultima la que se encuentra resaltada.
Modificar la hora en la BIOS
Por ultimo modificamos la hora en la BIOS para que se modifiquen en todos los sistemas operativos instalados.